This unique and eye-catching ugly sweater features a fun design inspired by the mysterious Ufo Area 51. The front of the sweater features a bright green alien with the words "Get In Loser" printed in bold white letters. The back of the sweater is adorned with a bright yellow UFO and the words "Ufo Area 51" in a fun font. Perfect for any fan of the mysterious Area 51, this ugly sweater is sure to be a hit at any holiday gathering.
Ufo Area 51 Get In Loser Ugly Sweater Upgrade Your Wardrobe with Trendy T-Shirt Hoodies, Sweatshirts, and 3D Designs!
Looking to revamp your style with fashionable apparel? Look no further! Our incredible collection of T-shirt Hoodies, Sweatshirts, and 3D designs has you covered. Step into the world of fashion and express yourself with our premium-quality T-shirt Hoodies that seamlessly blend comfort and style. Embrace the changing seasons with flair, whether you prefer a casual chic look or a statement piece that sets you apart from the crowd !
Our Sweatshirt Hoodies are designed to keep you cozy and warm while maintaining your unique sense of style. From timeless classics to eye-catching prints, our selection caters to every taste and occasion. Elevate your everyday outfits effortlessly with our must-have Sweatshirts, the perfect wardrobe essential for any fashion-forward individual. And for those craving an extra dimension in their fashion choices, our 3D designs are an absolute must-have! Embark on a visual journey with our intricately crafted patterns and detailed designs that bring your outfit to life.
But that's not all – our T-shirt Hoodies, Sweatshirts, and 3D collection come in a wide range of sizes, ensuring a perfect fit for everyone. Whether you're shopping for yourself or searching for a thoughtful gift, we have the ideal options waiting for you.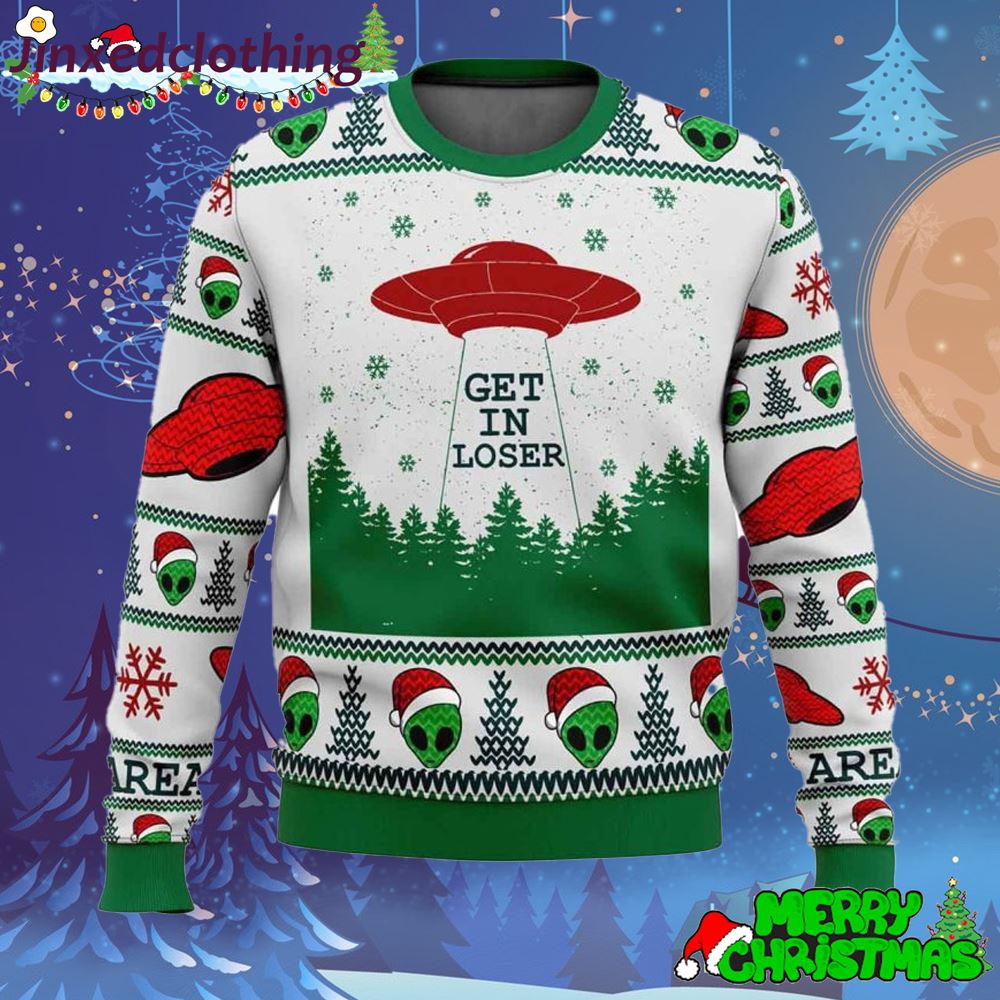 Check out Ufo Area 51 Get In Loser Ugly Sweater and 3D designs today!
Join our fashion-forward community and embrace your individuality. Stand out from the crowd and turn heads with our remarkable apparel. Don't miss the chance to upgrade your wardrobe with these trendy and comfortable pieces. Happy shopping!
Information
Material: 95% Polyester – 5% Spandex
Printing technique: hot-transfer printing (DTG)
Locations: China AOP Sweater Each all over printed sweater is constructed from a premium polyester blend that is ultra-soft and incredibly comfortable. Double side, the printing surface it is smooth, and the inner layer is fleece treated
Fulfillment time
Processing Time: 5-10 business days
Shipping lines: Ybdexpress, Yunexpress
Shipping time (US): 7-15 business days
Shipping time (WW): 10-25 business days